On Safari Part 1 – Kenya
After a surreal wedding and honeymoon week spent on the island of Lamu, off the coast of northern Kenya, it was time to move on. We said goodbye to all of our new friends and hopped a prop plane from the Manda airstrip and headed back to mainland Kenya to settled down for a couple of days in Nairobi, Kenya's capital city. We stayed just outside of the city center at the Wildebeest Camp, a nice little oasis of a campground that turned out to be the perfect resting place before the next stage or our trip. We spent the next two days gearing up for an overland safari that would take us from Nairobi Kenya, through Uganda, and finally to Zanzibar and Dar es Salaam, Tanzania, covering a varied terrain that would include cities, lakes, forests, islands, and some of Africa's most famous game parks. Two days of circling Nairobi and we were finally able to find the camping gear that we would need for our safari, including new sleeping bags, sleep mats, cold weather gear and toiletries.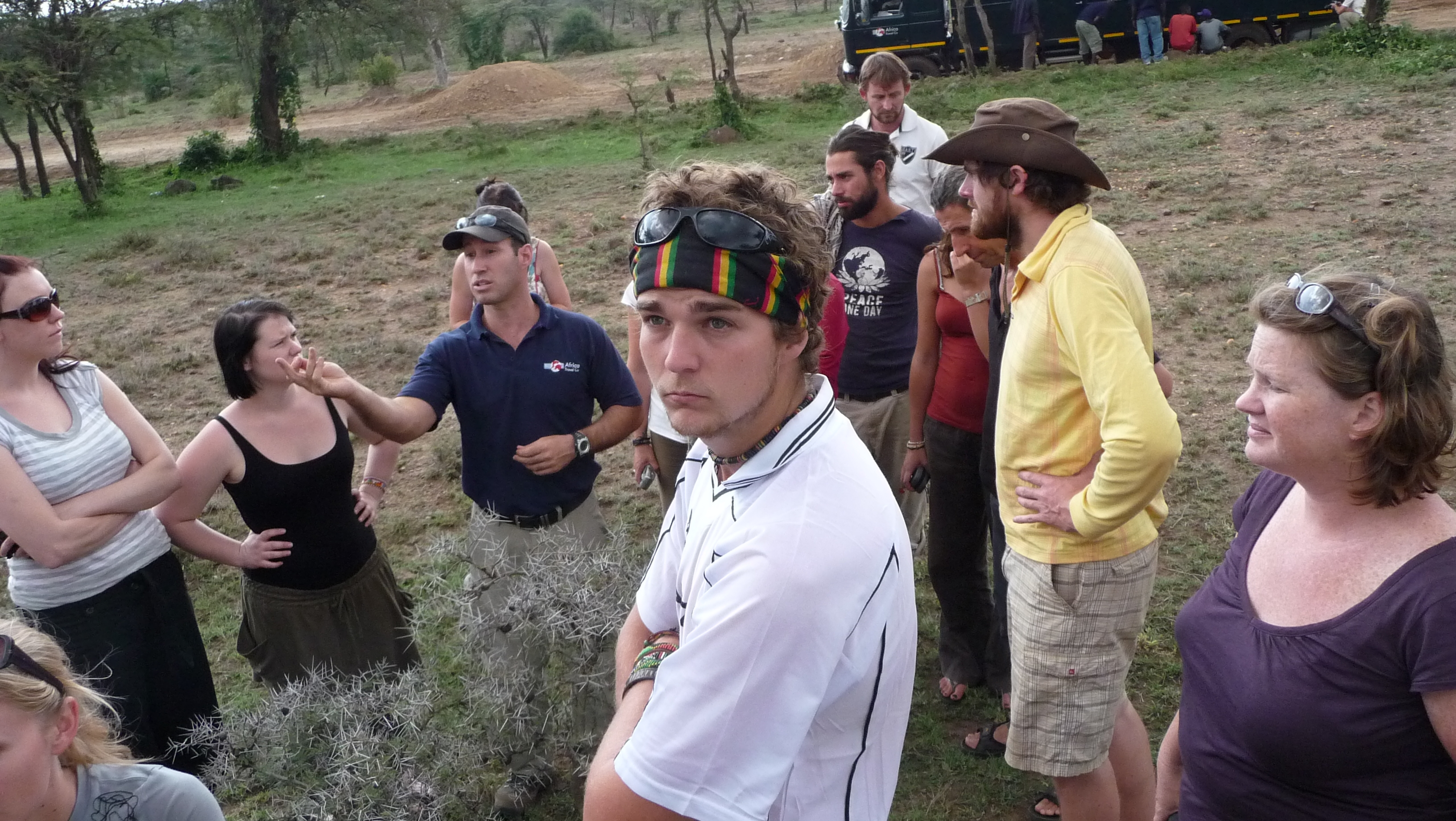 Day three in Nairobi and it was finally time to hit the road. After meeting our fellow travelers and guide, cooks, and driver, we boarded the Africa Travel Company safari truck. This custom rig, designed to handle the rough African terrain, would be our home for the next few weeks. Matt Dry, from Scottsdale Arizona of all places, would be our safari guide. In addition to being a former tennis pro and screen writer, Matt is gifted with an encyclopedic memory and a love for the bush. In the three weeks we would spend with Matt we would learn so much about Africa and the animals he loves, but in addition we would learn the scientific Latin names for bugs, trees, bushes, grasses and so much more. If Matt was terrific, the Kenyan crew made up of two cooks, Jared and Mwai, and Nick our driver, were on equal par. Aside from being great guys, they also seemed to love their jobs and were always eager to help out. The great group of people that we would travel with were the icing on the cake. Aussies, Dutch, Brits, and the Irish added to our international team and to top it off an unbelievably talented South African film team, Rowan and Misha from Cape Town, were on-board to document every step of the journey.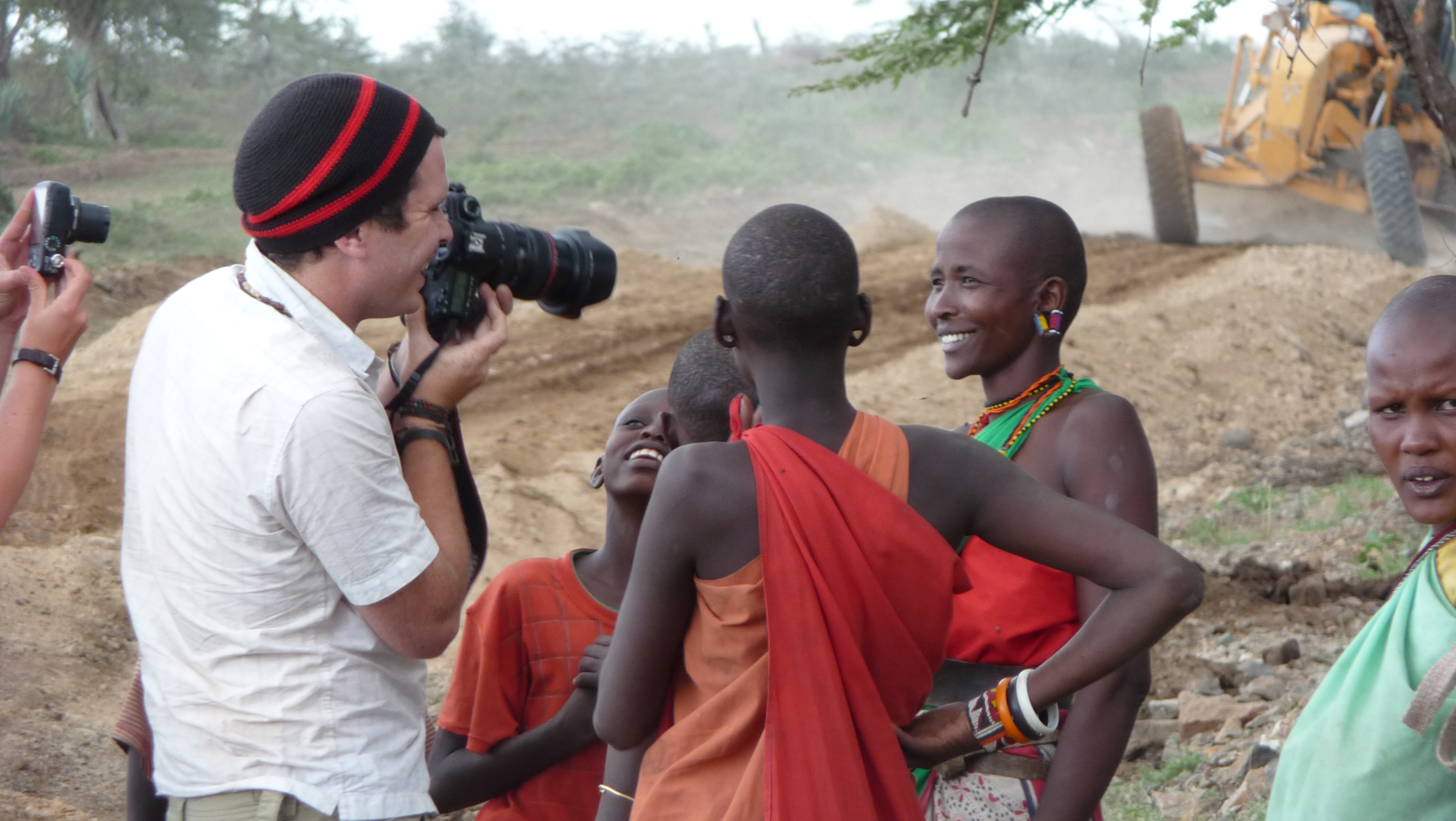 After an all day drive though the Kenyan countryside, we made our way into the Masai Mara, one of the most well known and well managed game reserves in Africa. This park rests inside Africa's Great Rift Valley – all 3700 square miles of it, stretches from northern Syria in Southwest Asia to central Mozambique in East Africa. The Masai people, for whom park is named, the with their colorful wraps, spears, and beaded jewelery, roam freely in the Mara, unhindered by the arbitrary country borders. At our first camp we were lucky enough to meet a group of young Masai warriors and to learn about their culture. At 15 years old a Masai boy is sent out into the bush where he must live alone for 5 years proving his bravery and manhood. If he proves himself a warrior by killing a lion, he returns to his village a hero and claims high status as a village protector. After enjoying their company around our camp fire, the young Masai warriors demonstrated some traditional dance that included an amazing leaping dance that had them vaulting off of their heels several feet into the air. A Masai man that proves himself in this dance at the annual competition among neighboring tribes is held in high regard and often has his pick of wives from the beautiful young Masai girls. If you've killed a lion and can jump the highest, your pretty much the Masai equivalent of Brad Pitt and your life is looking pretty sweet.
The following morning we rose early for our first game drive. As we pulled onto the road we were immediately greeted by herds of zebra, wildebeest, gazelle (both Thompson and Grants), and impala. Further along came the elephants, strong enough to tip the truck over if they were so inclined… then the giraffe ("towers" or "journeys" depending on who you ask), hartybeest, topi, ostrich, jackals, eland, hyenas, cape buffalo, grey crested cranes, warthogs, dikdik, and the list goes on. So many amazing animals roaming freely – grazing and hunting for their morning meal.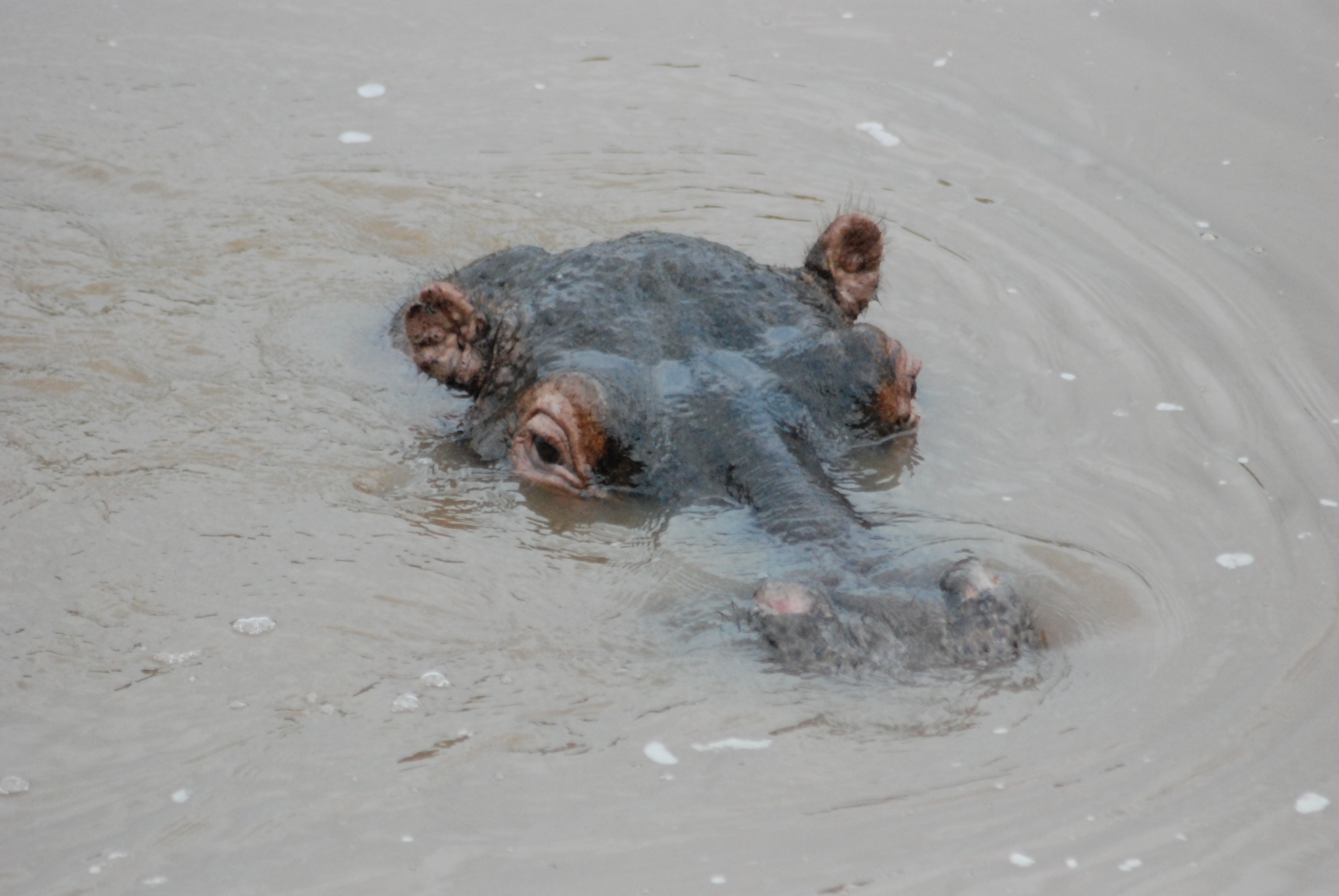 Then came the cats. Less than 45 minutes into the drive we came upon a huge lion guarding his morning kill – a wildebeest laying silent in a watering hole. The lion, face covered in flies, had apparently already had his fill and rested proudly at the waters edge as the vultures patiently waited for the leftovers. We spent at least 20 minutes at a stones throw from this scene before leaving him in peace. We rounded the next corner and we ran into a family of cheetah resting beneath an acacia tree. Mom and teenage cubs hiding from the rising sun and heat. We weren't lucky enough to see a leopard this day, but we did come across a very rare smaller cat called a serval, first trotting out of sight and then coming back to rest beneath a bush as he eyed us suspiciously. Matt told us that this was a rare sighting and it was a great end to an amazing day.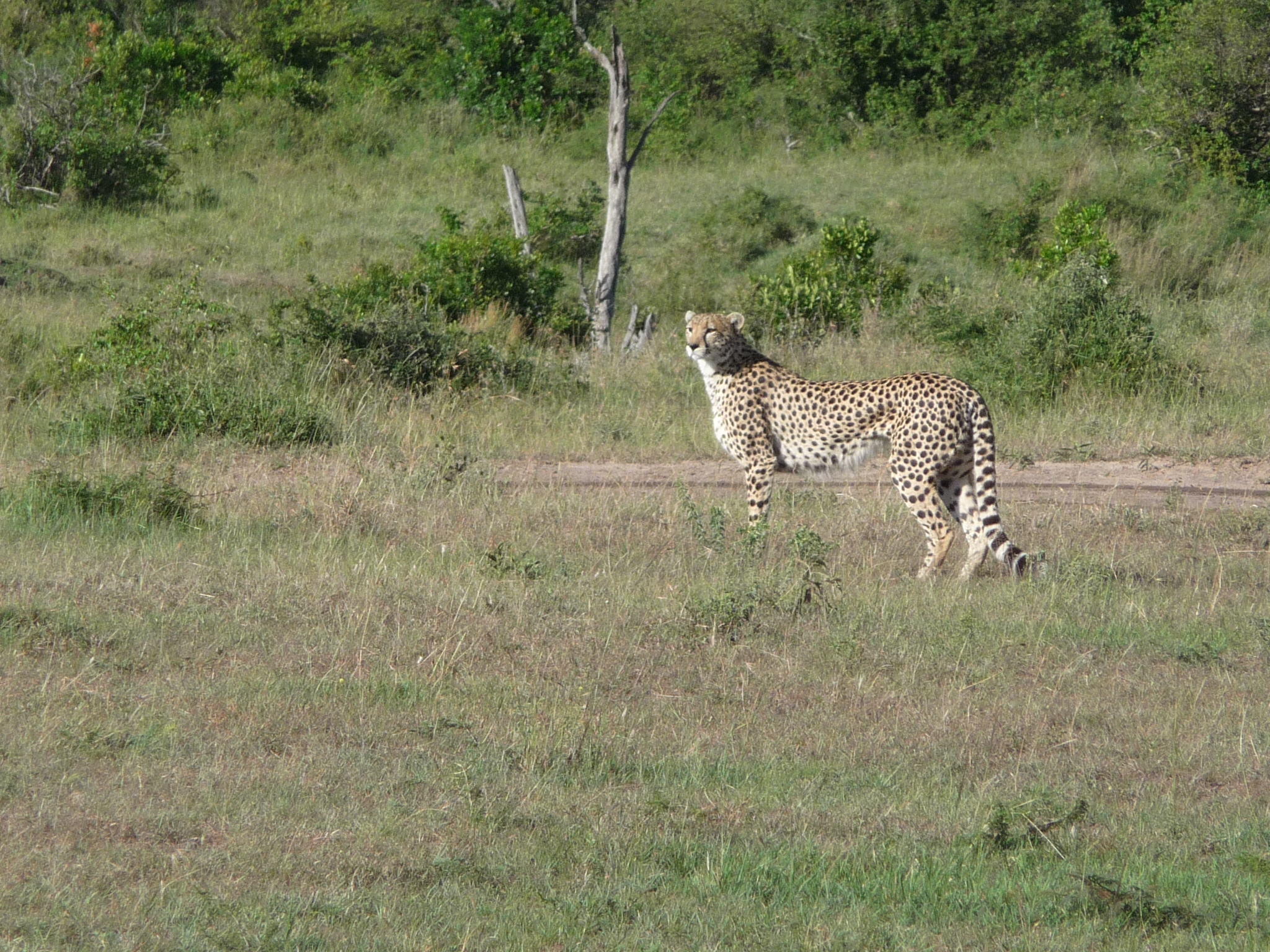 That night we pulled into a campground along side Lake Victoria to rest up for our early departure out of Kenya and into the country of Uganda. Stayed tuned for our Uganda post and photos coming as soon as the Internet gods permit.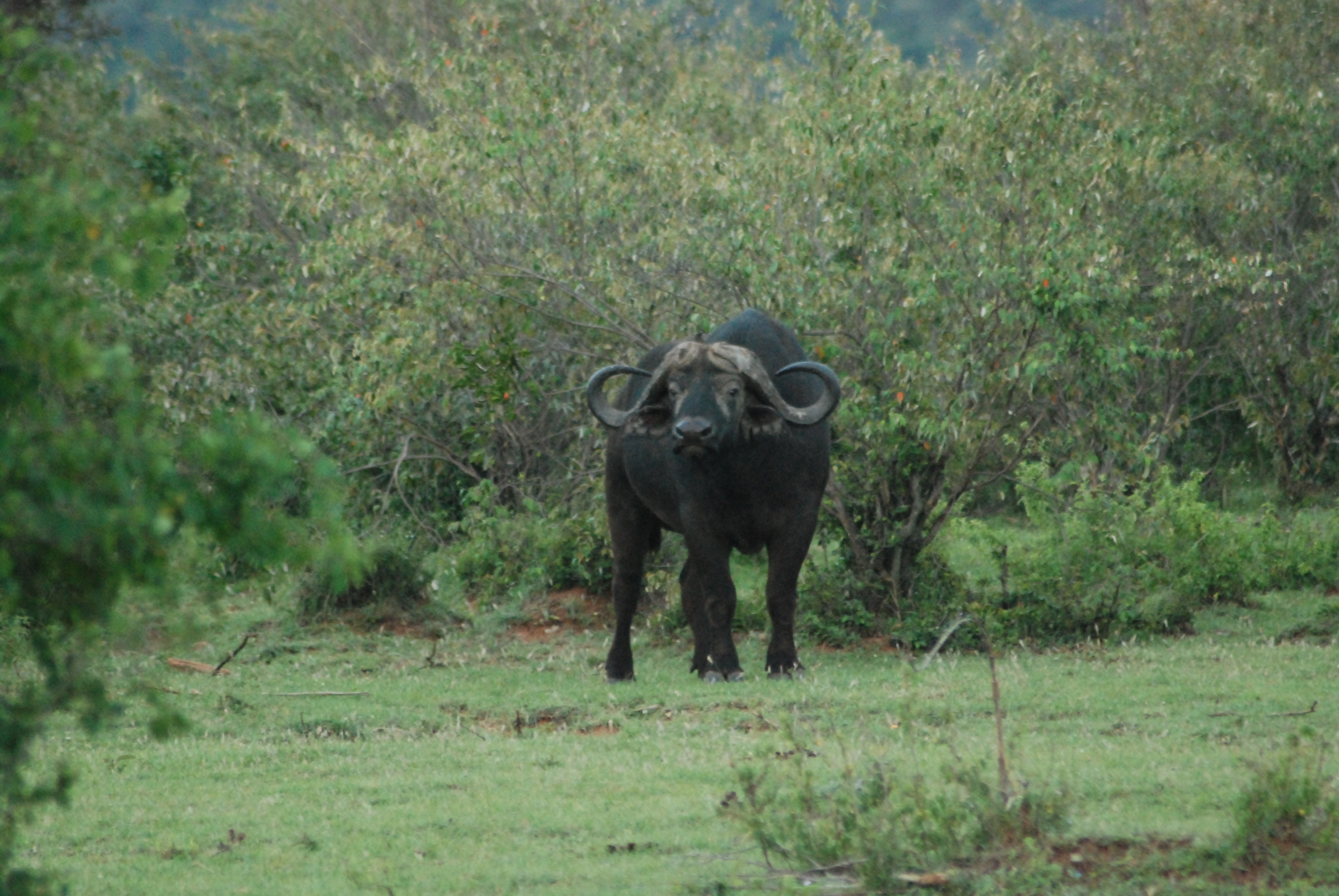 Click here for our Kenya photos.