On Safari Part 2 – Gorilla Trekking in Uganda
After a night at camp along the shore of the Kenyan side of Lake Victoria, once thought to be the source of the Nile, we set out for the border of Uganda, excited by the idea that we would be sitting amongst the Mountain Gorilla in just a few days time. Perhaps most well known to westerners as the country once terrorized by the megalomaniac dictator Idi Amin, Uganda is still recovering from years of corruption, neglect, and down right horror. To me, however, Uganda seems like a country on the comeback with natural beauty abounding and a generosity of spirit in the people of the country that seems like the result of a nation trying to reinvent itself. In fact, it turned out to be my favorite of the three East African countries that we were to visit.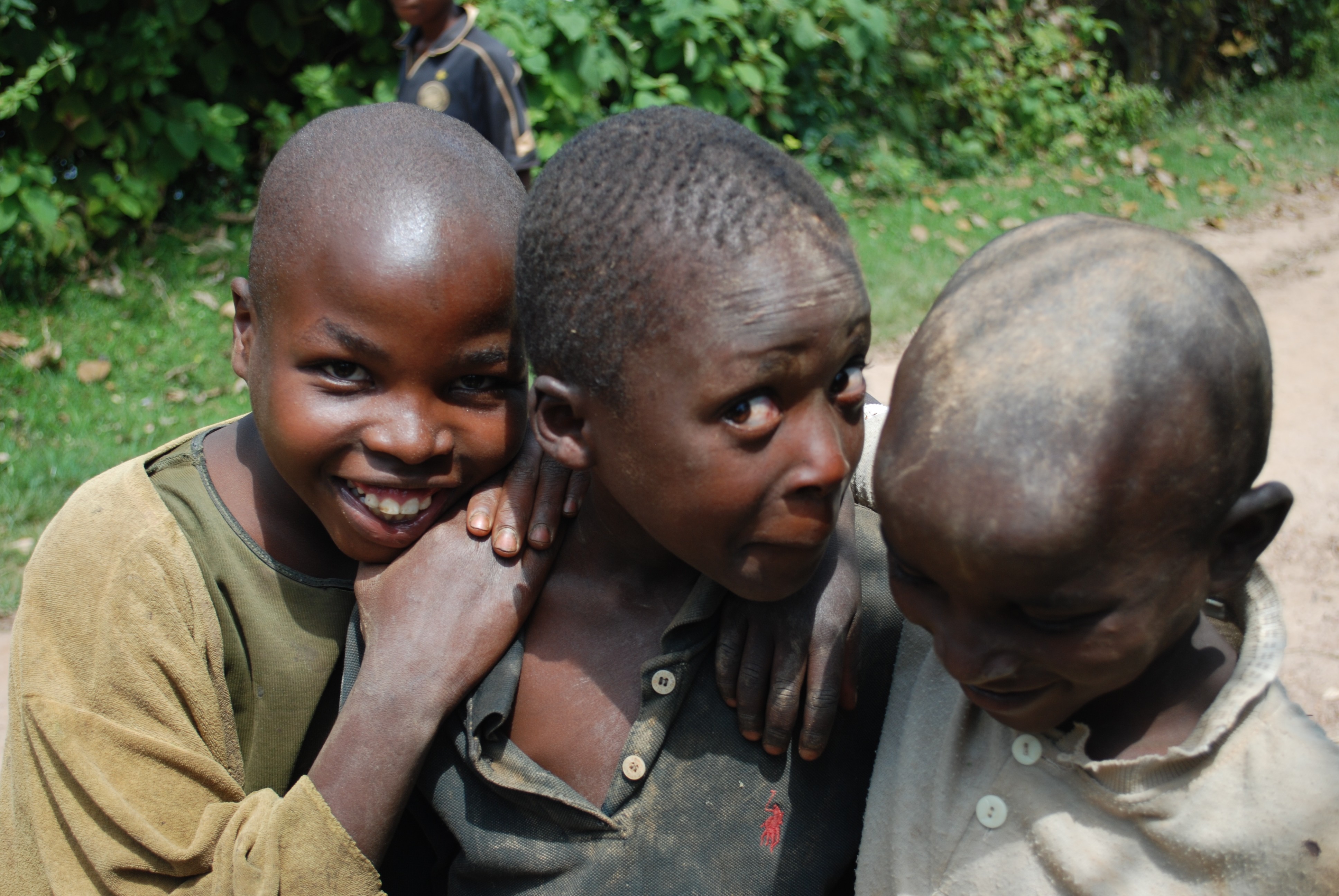 As we crossed over the border from Kenya, almost immediately we noticed the change in the landscape. The dry plains of the Rift Valley gave way to rolling hills, the occasional volcanic peak, and endless green fields of papyrus, banana trees, and tall flowing stalks of sugarcane. Cash crops once accounted for a good portion of Uganda's GNP, but now many of the farmers have reverted back to sustenance farming – growing maize, sweet potatoes, and other crops that go straight to the dinner table. The country side was beautiful and it made for an interesting trip. Every once in a while the fields would give way to small communities made up of adobe huts and brightly painted shops (brightly painted with the colors and logos of a multitude of mobile companies, but we'll leave this for another time) – fruit stalls, furniture dealers, metal works, and auto mechanics, and a colorful array of locals idly standing by the roadside chatting unable to do much in the sweltering afternoon heat.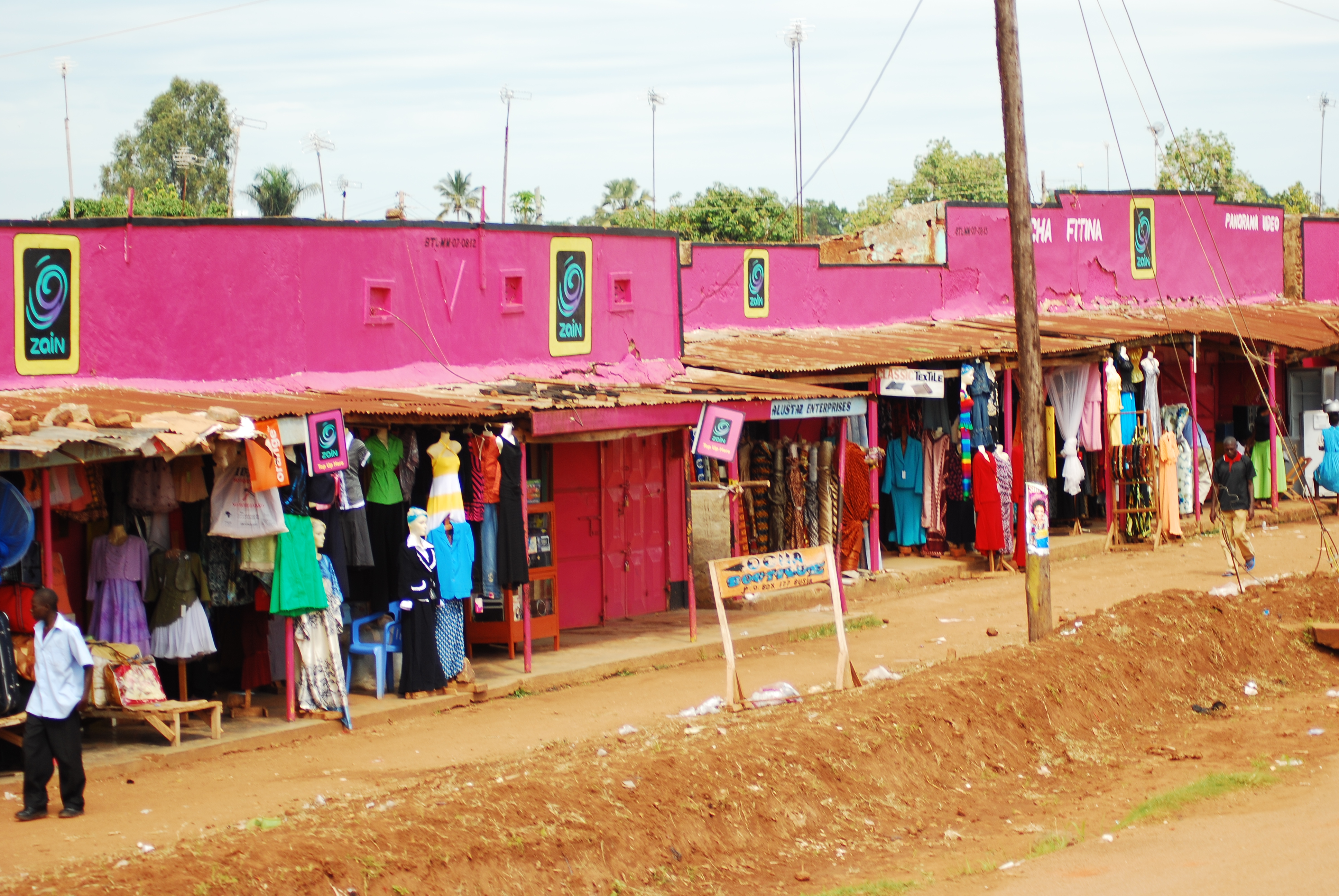 That afternoon we stocked up on supplies in Kampala, Uganda's capital and largest city, and rolled into the Red Chili Hideaway just before sunset. Like many of the safari camps that we would visit, the RCH catered to western sensibilities with a pub, television, and the Internet. Somehow staying at these camps seems to take away the sense of experiencing the "real" Africa, but being that one of the safari companies first priorities is the safety of their clientele, you can't really blame them. Much of Africa is still wild and lawless. Knowing this, however, you can't help but yearn to stop every now and then in a local market in a town in the middle of nowhere to mingle with the people in places that are otherwise untouched by tourism.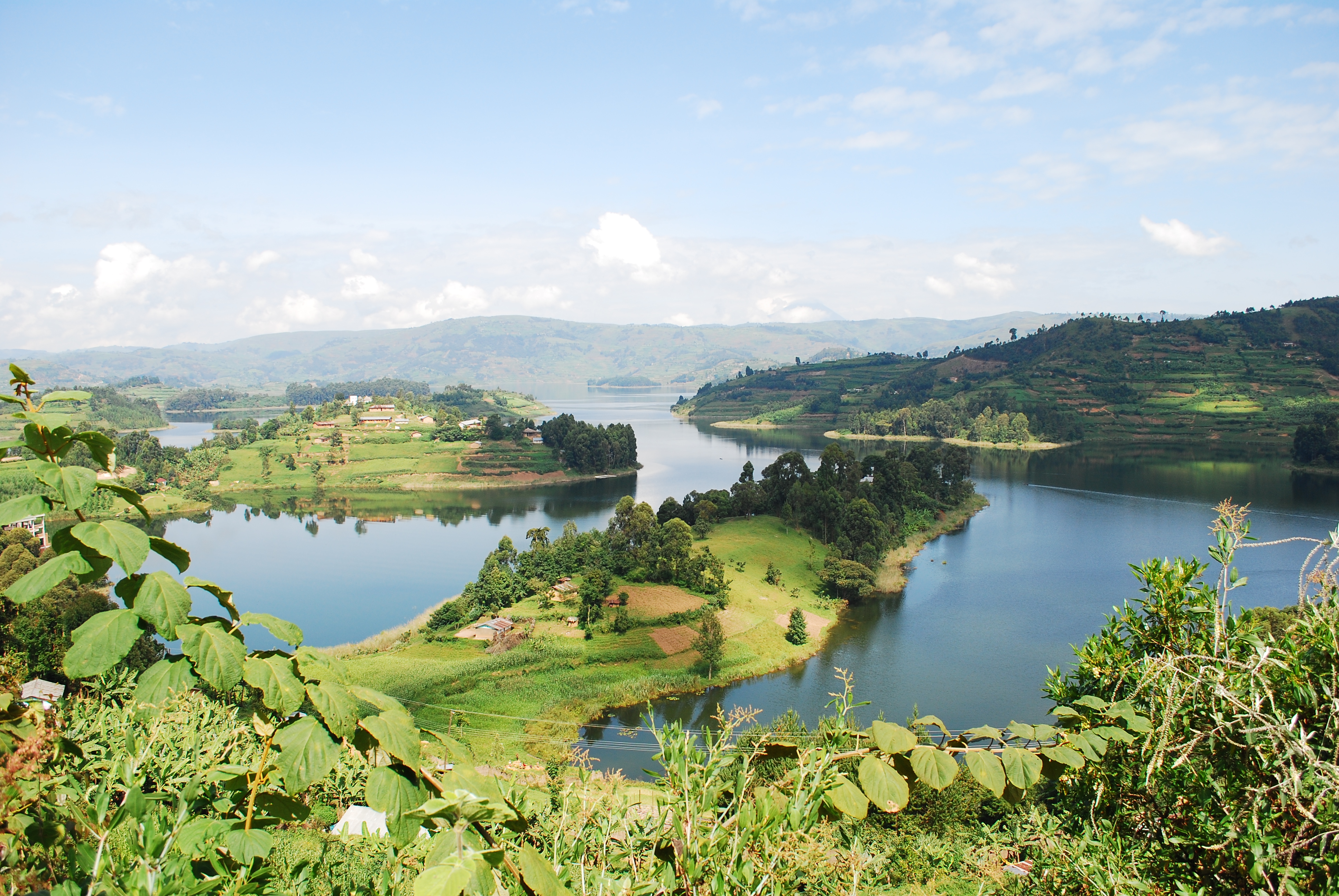 The following day started with another big drive, but when we eventually arrived at Lake Bunyonyi, what would be our base camp before our gorilla trek, it was well worth it. This crater lake, at 900m, is the second deepest in Africa. The water is clean and blue, and after days of dust and sweat a welcome relief for our crew. The following day we took a canoe ride around the lake with a local guide. Gliding past small lush islands enjoying the cool mountain breeze off the lake was a tranquil respite after several days of bumpy African roads and roasting heat. Punishment Island is perhaps the most infamous island on the lake. Up until the 1960s a young unwed girl found to be pregnant was brought to the island, abandoned, and left to die. If she was one of the lucky ones, a local farmer, not wealthy enough to afford a bridal dowry, might rescue her from the island and claim her as his wife. Africa, still full of tribal life, lore, and customs, allows for many interesting and often disturbing stories like this one. Don't even get me started on the subject of the circumcision rituals of some of the tribes:(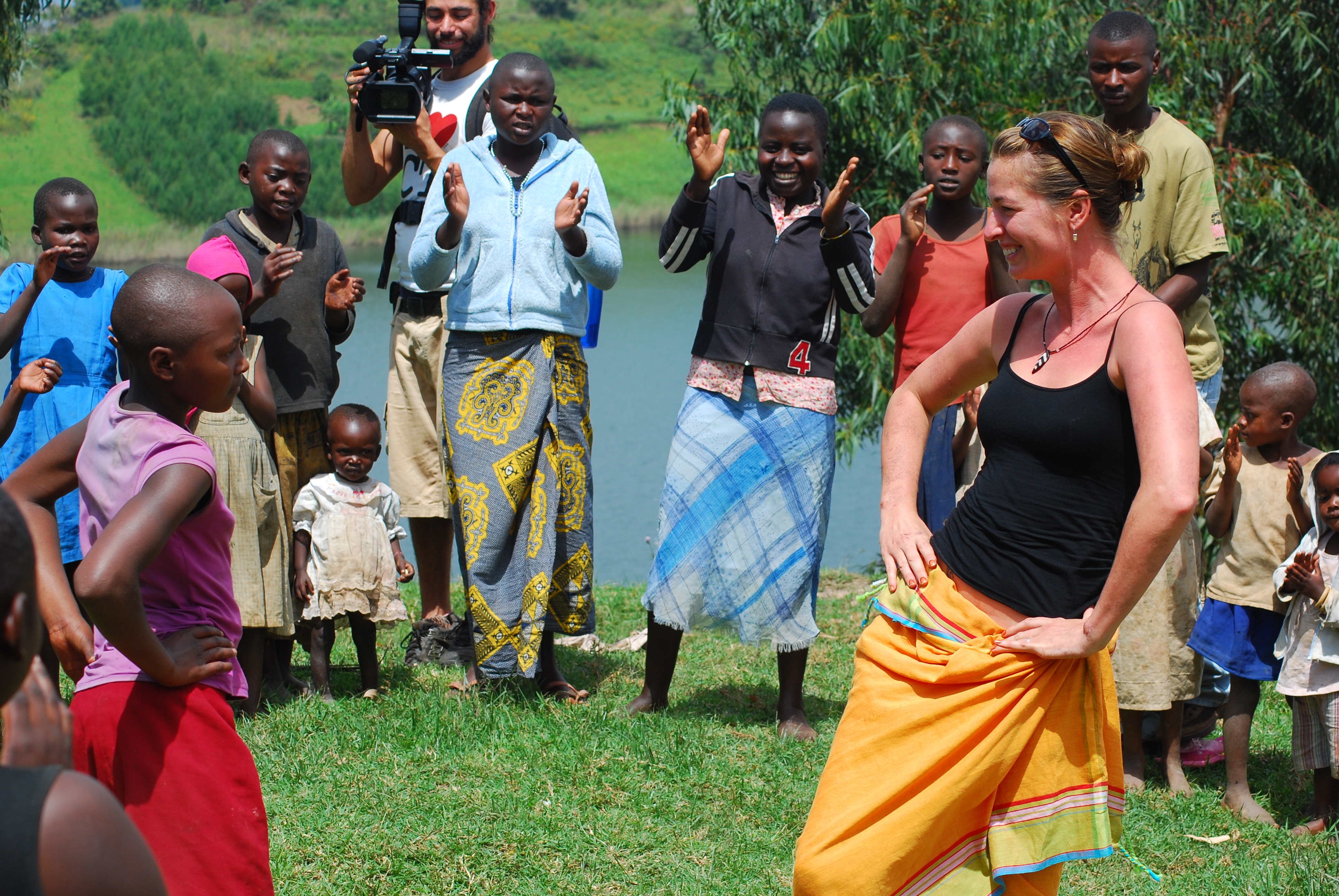 Aside from some relaxing time on and in the lake, frolicking (yes frolicking) with our new companions, Lila and I visited a local village and its school and orphanage. Most of the children at the orphanage had lost their parents to HIV and/or Aids, still devastating diseases in much of Africa. The children were amazing. Shy at first, but their beautiful smiles broke down the barriers between us and soon they reached for our hands and climbed on our shoulders accompanying us around the village walk giggling and chattering all the way. At the end of our walk the children organized into a group and put on a performance for us of traditional songs and dances, pulling Lila into the circle to join the fun. I, of course, hid behind the camera enjoying the festivities from afar. This day will remain as one of the highlights of our trip.
Day three and it was finally gorilla trekking time. We awoke before dawn, Lila having not slept much due to her King Kong phobia brought on by her brothers as a young girl (sorry Matt and Jake, but that's what she told me). We were met at the camp gate by a local driver who took us by van to Mgahinga Gorilla National Park, made famous by biologist Diane Fossey (Gorillas in the Mist), where our trek would begin. When we arrived at our destination a group of professional trekkers were sent to find out where the gorillas would be for the day. By following their trail starting at the place they had camped down the prior evening the trekkers are able to determine where the gorillas will be during the day with a very small margin of error. Gorillas are nomadic so they rarely stay in one place for long. In Mgahinga Gorilla National Park there are over thirty documented families of gorilla who call this forest home, but only seven families that are habituated to human beings. Today we would set out to find the "Red Family".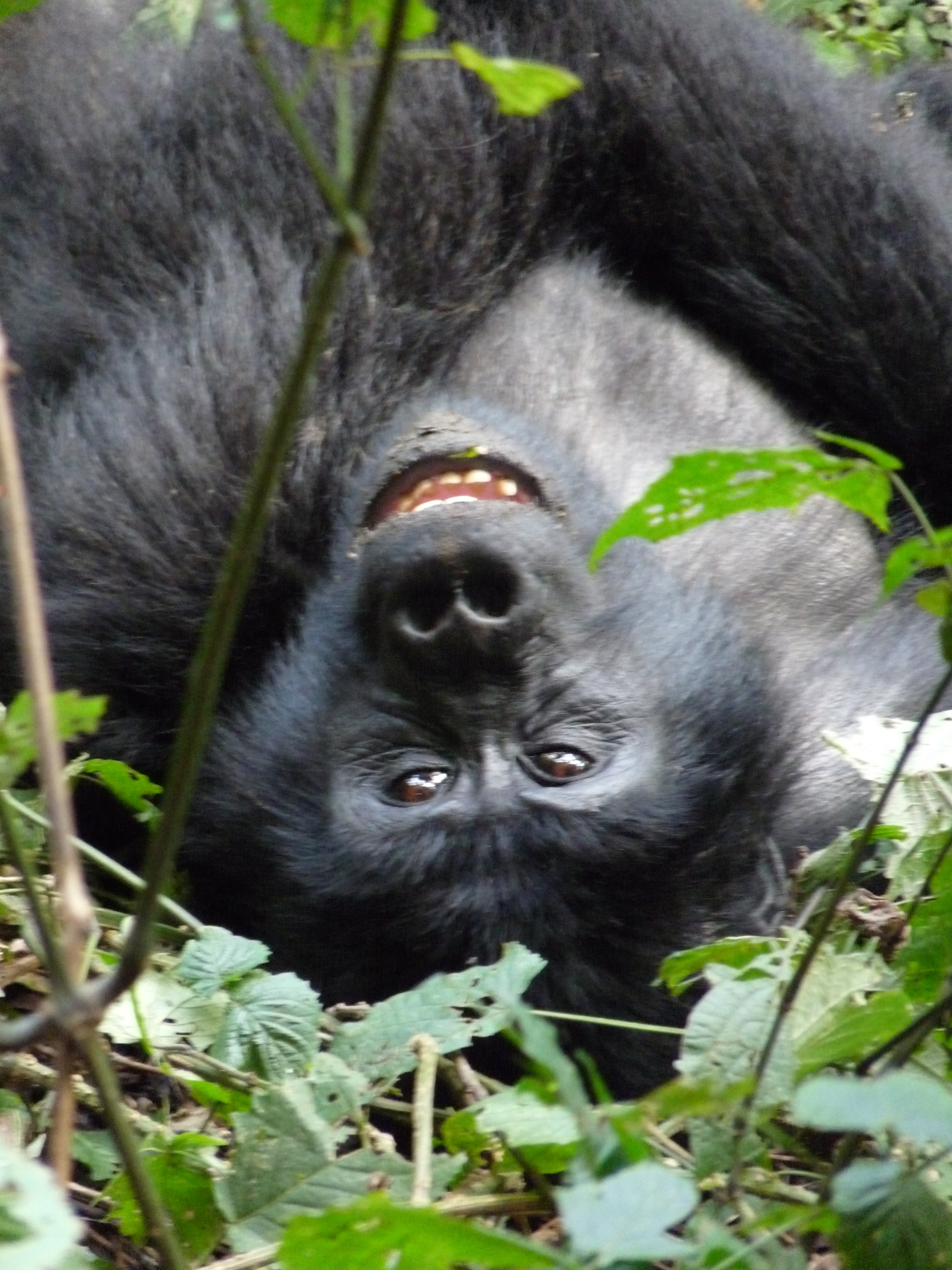 Three long hours of traversing steep muddy cliff sides through ungroomed bush, tromping across foot deep marshes, fighting the safari ants crawling up our pant legs, and yes biting us, and a few wasp stings later (thanks Katie for hitting the nest first and sparing us the pain), and we finally came across our first silverback sitting serenely like a giant Buddha against the steep hillside munching on a handful of fresh green leaves. As he calmly looked at us with his soulful eyes and slumbered away up the incline I realized how gentle a creature the gorilla was and how much he really was like us – all 400 pounds of him. At that moment our guide alerted us that the rest of the family was at rest on the slope immediately below. We rounded the corner and were greeted by a juvenile hanging Tarzan like from a vine 20 feet up. He eyed us and just to show off dropped to the ground below, pounding his chest in his best King Kong impression, and joined his 300 pound mother relaxing in the soft leaf covering. We found a comfortable spot ourselves amongst the hillside foliage, not more than 30 feet from the action, and Lila, Katie, Sam, our guides and I settled in to enjoy the show. The family totaled nine. One large dominant silverback, two Moms, two juveniles, a baby, a black back (adolescent male), and two more silverbacks that we heard but never actually saw.
The hour spent with the gorillas was unbelievable. At one point we couldn't have been farther than 10 feet from the silveback and blackback as they wrestled in the forest bed just to the right of us. Eyeing us watchfully, but never bothered by our presence. If trekking wild gorilla sounds intrusive, and I have to admit I thought so at first myself, with less than 700 Mountain Gorillas left in the world, and not enough forest to support more, eco-tourism pays entirely for the protection of these amazing creatures and their forest. This, in fact, turns out to be true for most of the animal parks in Africa.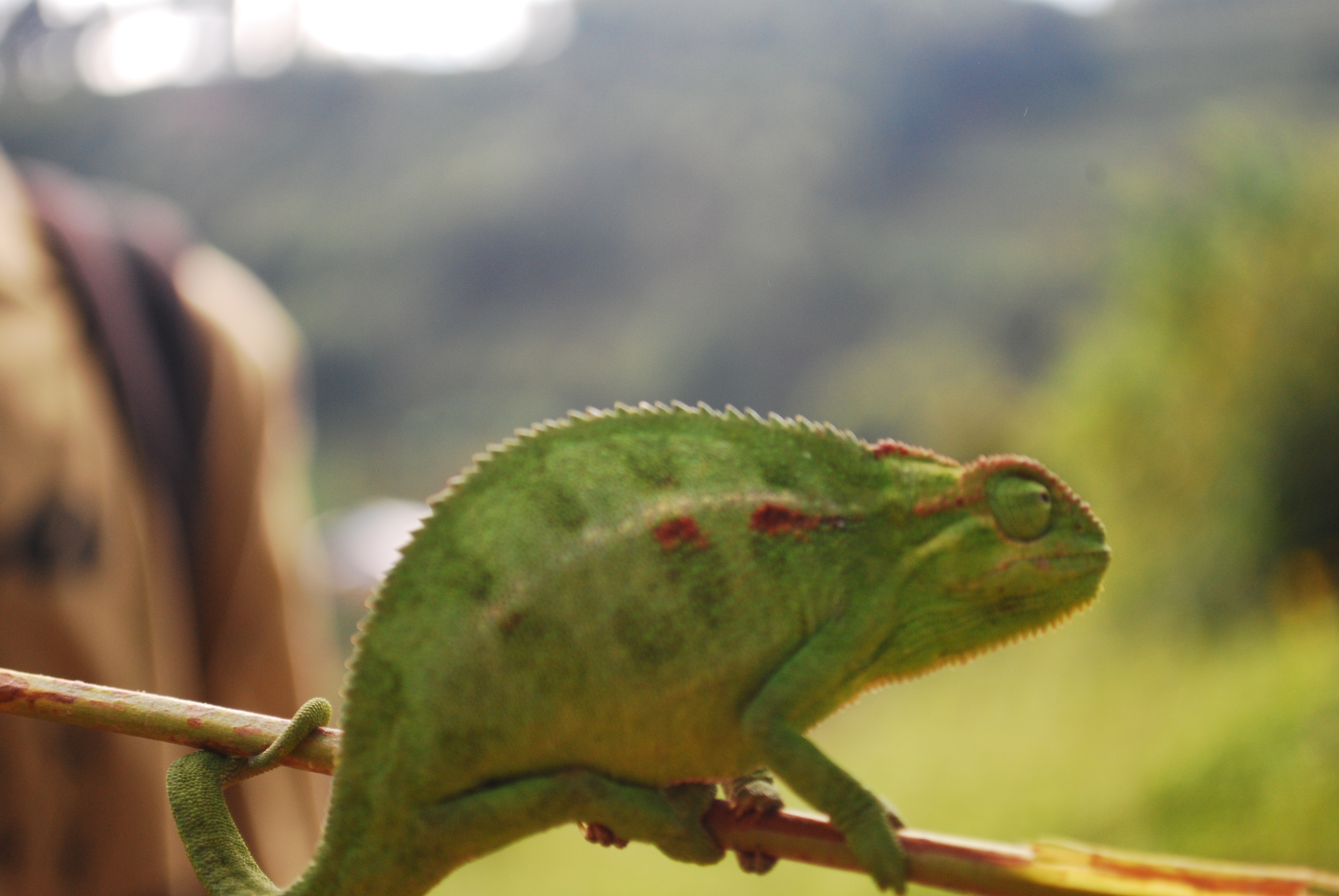 Our hour was up, so we headed back, taking a two hour shortcut that would take us through more swamp, more wasps, and up a 70 degree grade that made our calves burn far worse than the ant bites, but in my euphoric state I really didn't mind the pain. Once back at the ranger station I bought Lila a miniature hand-carved gorilla figurine as a reward for overcoming her fear that she now carries with her wherever we go to remind her of this amazing day.
Click here to view our Uganda photos. I would say "our" photos, however, we lost our camera shortly before entering Uganda so many of these photos are courtesy of all our new friends on the ATC truck – Sam, Katie, Simon & Caroline – you guys are wicked!