Adventures in the Syrian Arab Republic
Months before Lila and I begin our trip around the world, we contemplated the difficulty of eventually crossing the border into Syria. The Syrian embassy in San Francisco would only allow us to obtain visas issued in the U.S. three months prior to our visit. This would pose a problem since we would be passing into Syria almost seven months after leaving the States. We wrote a letter to the passport office requesting second passports in case we would need to send them back to the U.S. to secure our visas from the road. We couldn't imagine the logistics necessary to pull this off, but we got them just in case. In Dar es Salam, Tanzania we went to both the Syrian and U.S. embassies to see if we could get our visas there. No luck. In addition to visa issues, the U.S. Syrian relationship has been a dodgy one ever since good ole Georgie W declared Syria a "Rogue State" and nearly crippled their tourist industry. So when it came time to cross the border from Jordan into Syria, we were more than a little weary of being turned away.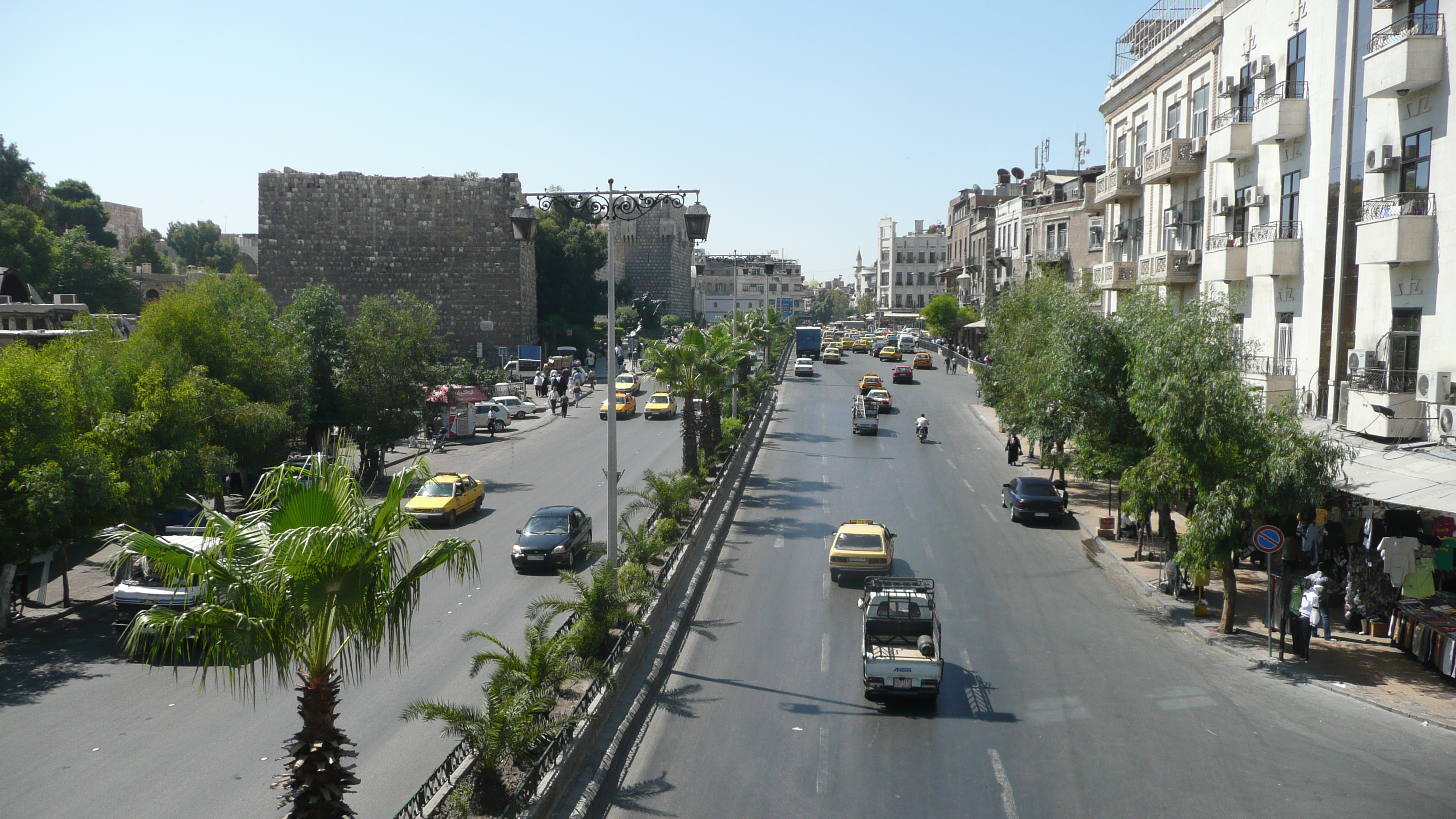 After five comfortable hours at the nicest and cleanest border station that we've been to so far, where we were even able to buy a bottle of Johnny Walker at the air conditioned super Duty-Free (as you may imagine, it is not always so easy to get alcohol in a Muslim state), and we were on our way to Damascus.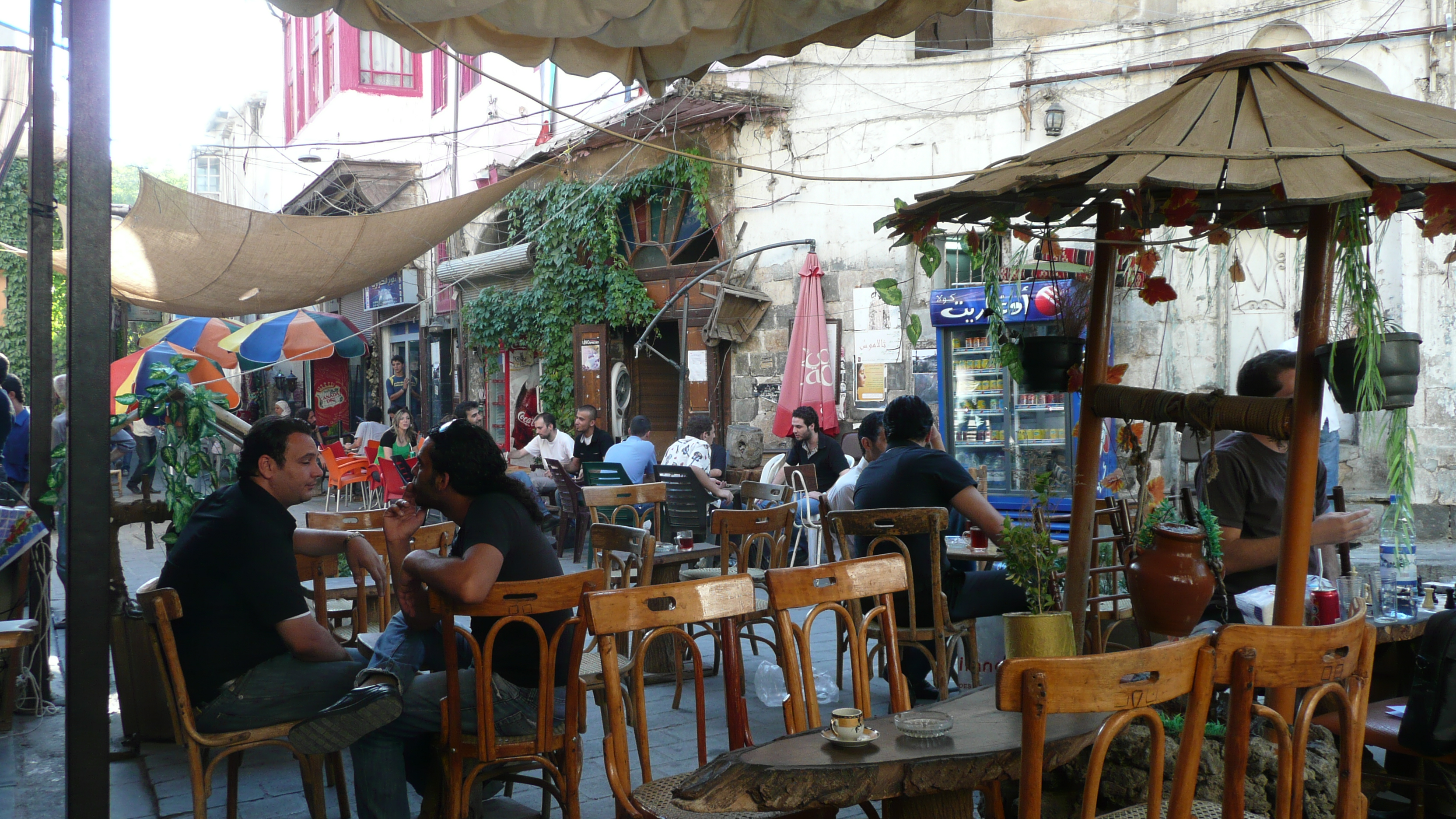 Damascus, thought to be one of, if not the oldest continuously inhabited city in the world is a seemingly effortless blend of old world charm and modern city life. We settled into a nice little guesthouse in a neighborhood just between the Old City and the New Town, lined with small street-side cafes where the young international backpacker crowd mingled with the locals over tea and nargila (shisha, hooka, hubbly-bubbly), and backgammon. Wherever you go in the Middle East there seems to be no shortage of any of these vices. Lila and I were happy to join them each afternoon after seeing the sites.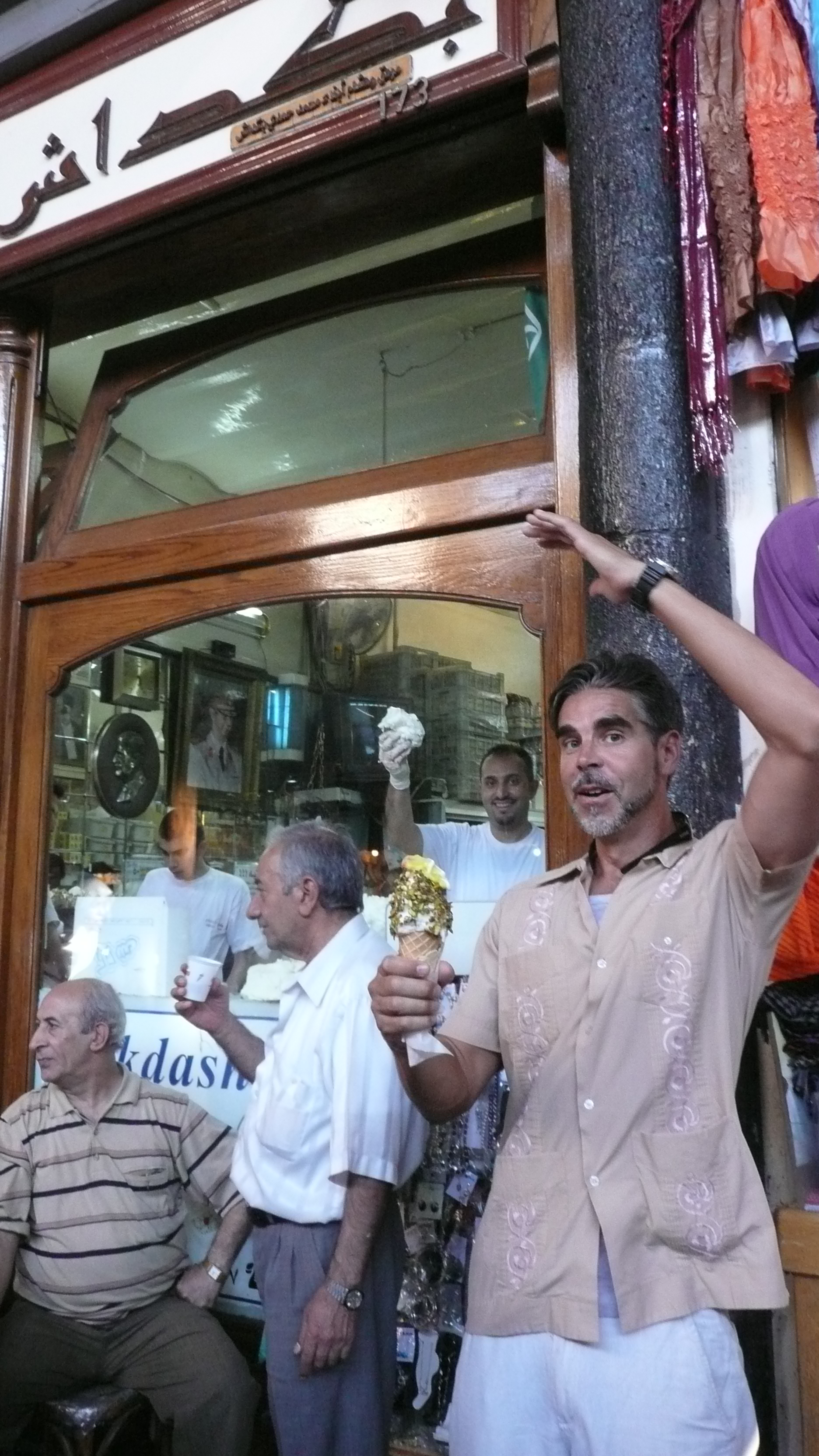 Just a short distance from our hotel and we were strolling through Damascus' famous souks, old world markets lined with shops and stalls selling everything from fabric, gold and silver jewelry, clothing, produce, delectable sweets, and an amazing selection of multi-hued spices piled high into colorful pyramids. Tea vendors, literally wearing giant copper teapots on their backs, sold cup after cup of the national obsession to passersby. Men in white uniforms pressed and pulled giant globs of ice cream, rolling the scoops in sliced pistachios before serving them to the waiting crowd. The bullet holes in the high arched tin roof, left over from France's unsportsmanlike exit from Syria, allowed in columns of natural light that made the entire scene even more surreal.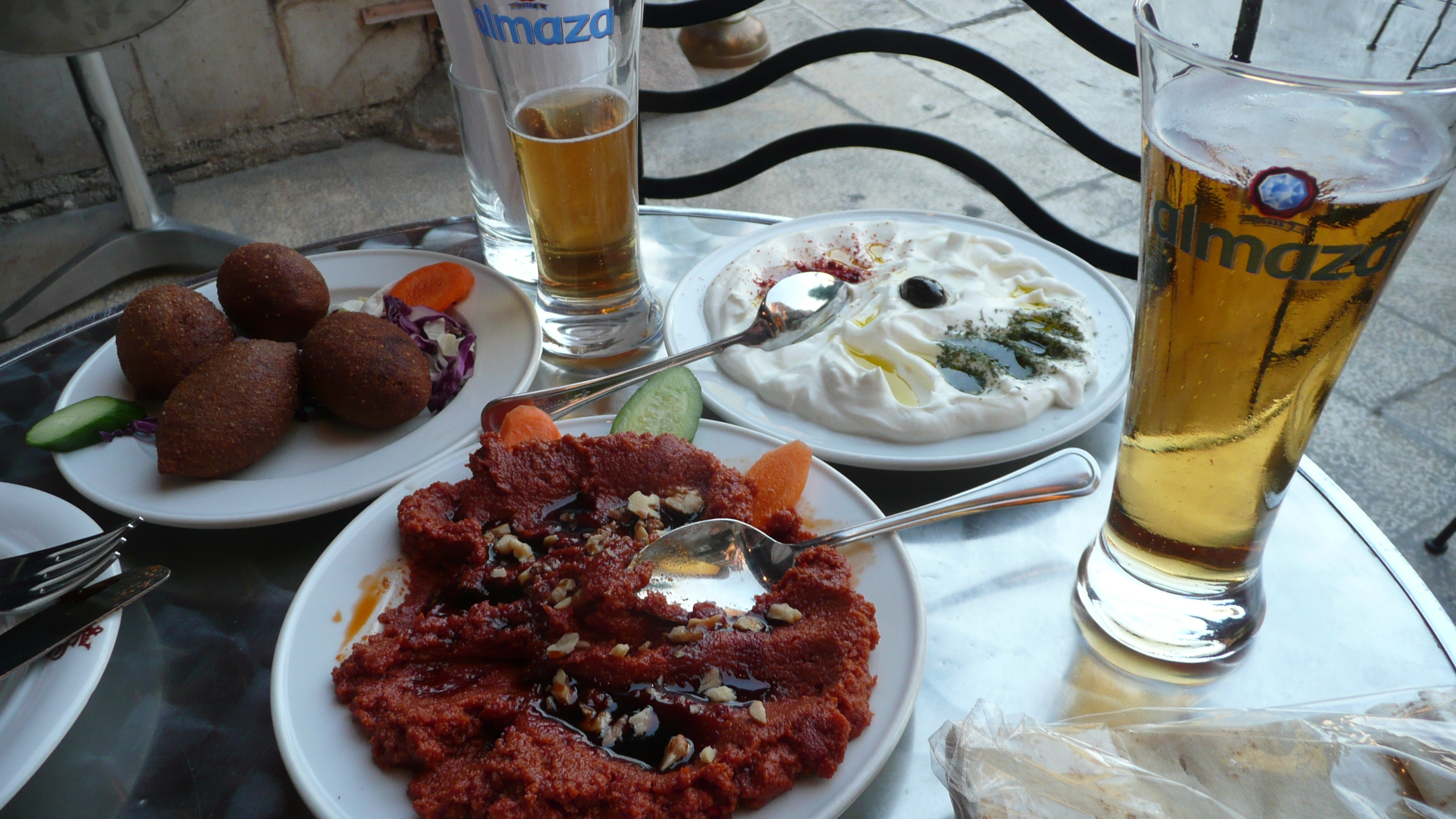 We exited the market and we're greeted with the site of the Umayyad Mosque. One of Islam's most important mosques, especially important to the throngs of Iranians on pilgrimage. Groups of Iranian women clad from head to toe in black blended with the multitude of families and tourists in an almost park-like setting within the walls of the mosque. Children ran and played in the absolution fountain. Lila had to go to the "Putting on special clothes room" where she was made to dawn an Obi Wan Kenobi inspired outfit that covered her from head to toe before being allowed inside.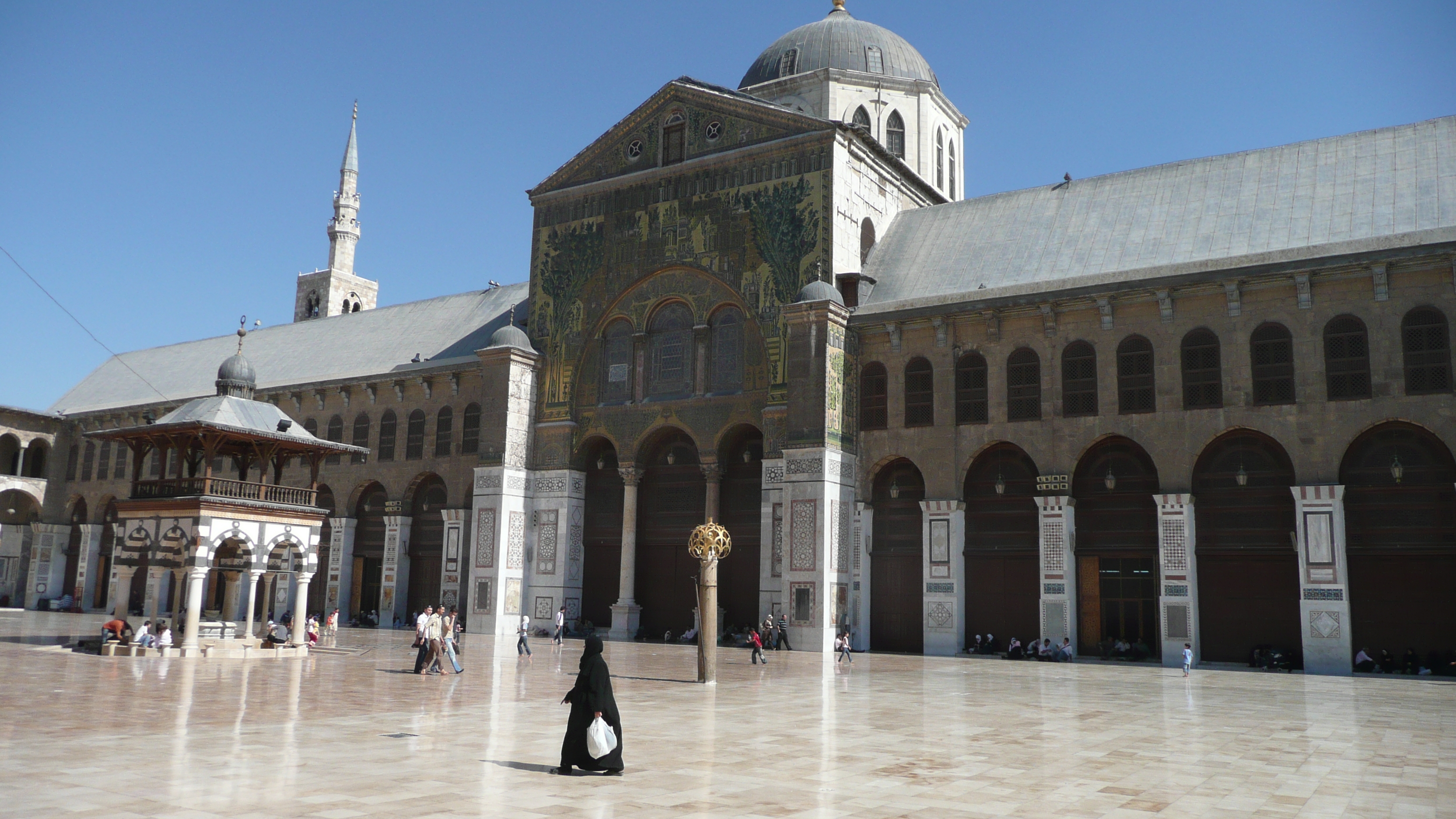 Back outside of the mosque and the city broke into a maze of narrow winding streets peppered with an eclectic array of shops, hotels, and food stalls. More mosques, more shops, more food and we worked our way to the "Christian Quarter". Aside from the churches (Roman, Greek, Catholic, Armenian) that replaced the mosques, and the liquor stores (yes it's a theme in our life), the neighborhood spiraled and meandered back into the Islamic Quarters. These two communities seem to exist peacefully in a city that owes so much to the interconnection between both their cultures and traditions.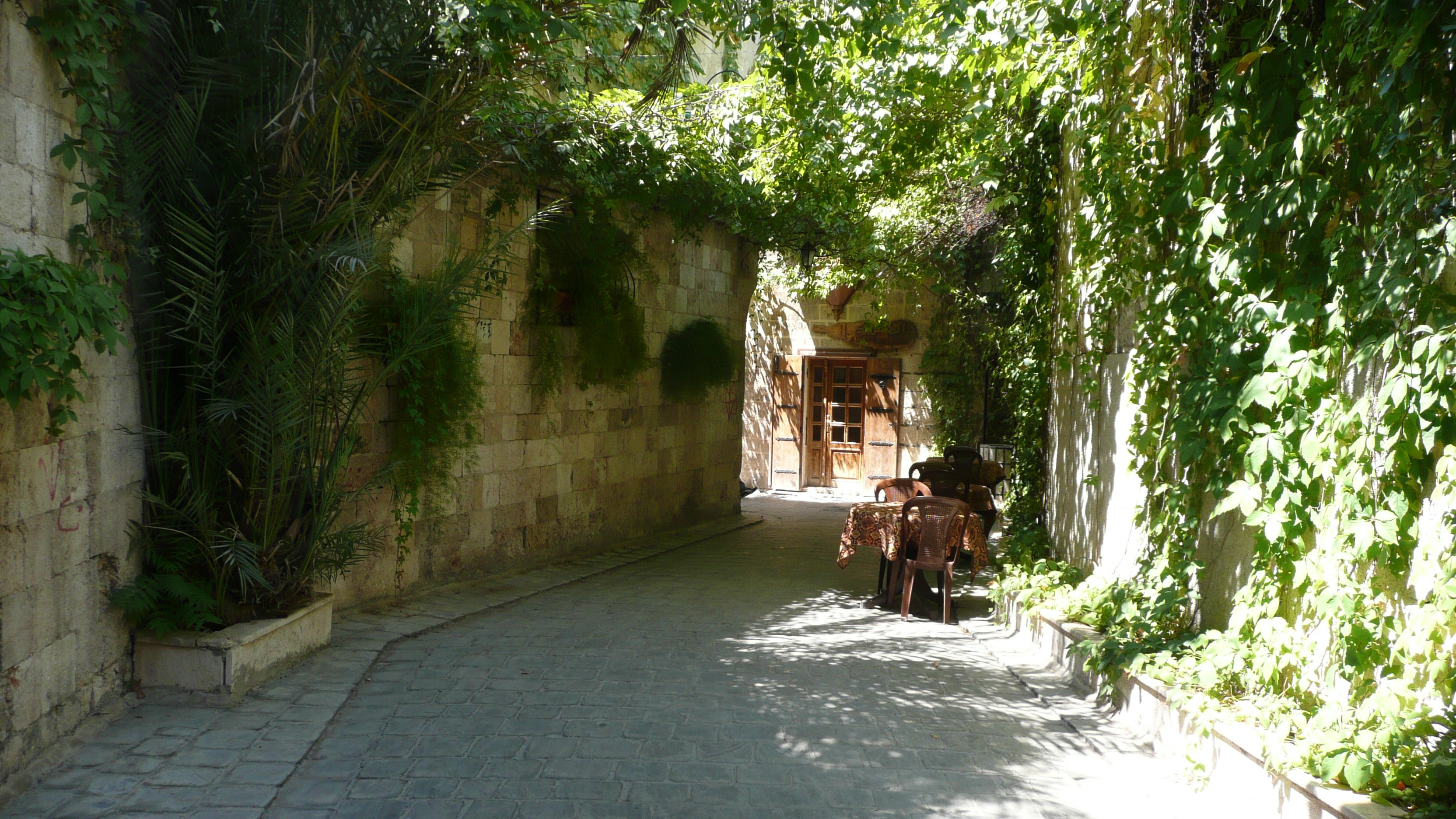 From Damascus we headed East to the ancient Roman city of Palmyra, less than 160 kilometers from the border of Iraq. Once ruled by the Syrian Queen Zenobia, the city was one of the richest and most prominent cites set up by the Romans along the important trade routes in the Middle East. Palmyra is also the largest intact Roman ruin outside of Rome. Lila and I ascended on the city at sunset. The rose colored stone back lit by the sun was stunning. The town of Palmyra, itself, is small and unassuming, but we did manage to find a good meal (and beer:) in a cave-like restaurant in the basement of a local hotel.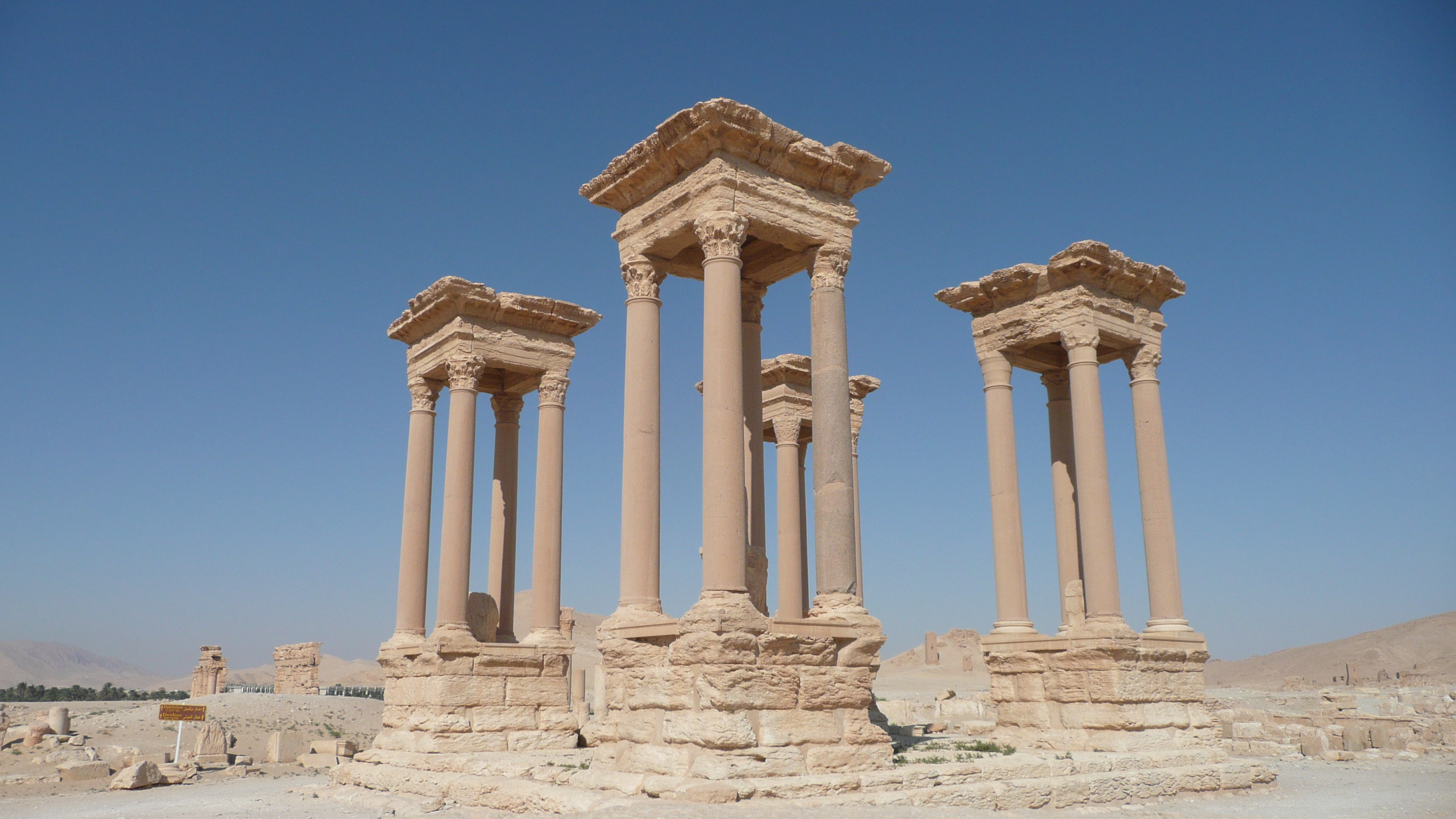 The next morning we boarded a bus north to the city of Hama. Famous for it's norias, giant water wheels, once used to draw water from the river that flows through the middle of the city to the hills above. The wheels were beautiful and the impressive squealing sound that they made as they turned, wood on wood, was memorable. In addition to being a nice little city for a walk-a-bout, Hama is also the jumping off point to some of Syria's more famous attractions.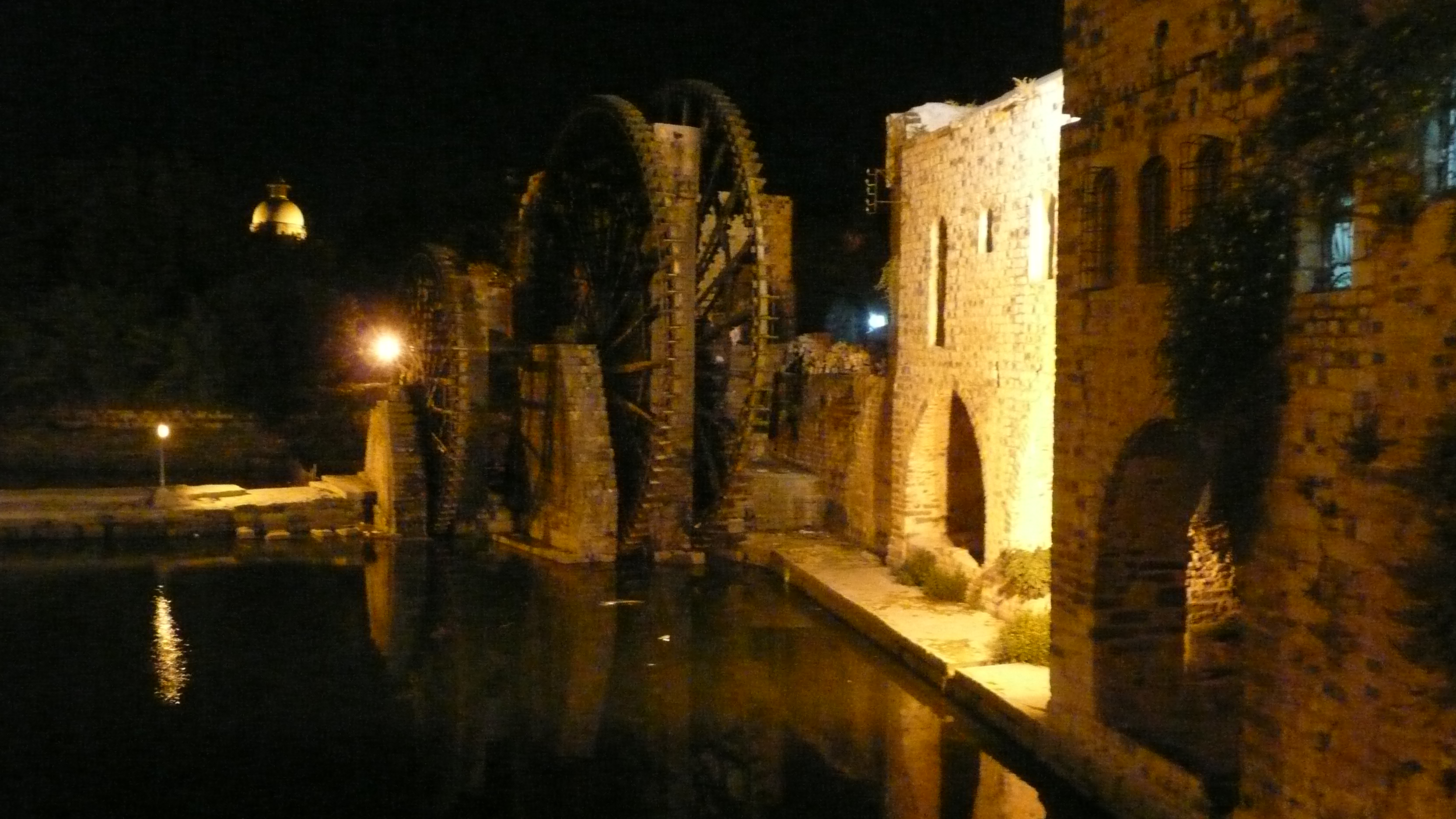 The following morning we jumped aboard a small tour bus that took us west through beautiful Syrian countryside – dotted with trees and lined with small flowered strewn villages, it was a welcome relief from so much of the countries rocky terrain. We first visited the Saint George Monastery, where legend has it Saint Paul once holed up, sheltered from an angry Arab mob, before being lowered with his horse out the back window where he fled to his safety. Next came the Krak des Chevaliers, a famous crusader castle that seemed to be pulled right off the pages of a J.R.R. Tolkien novel.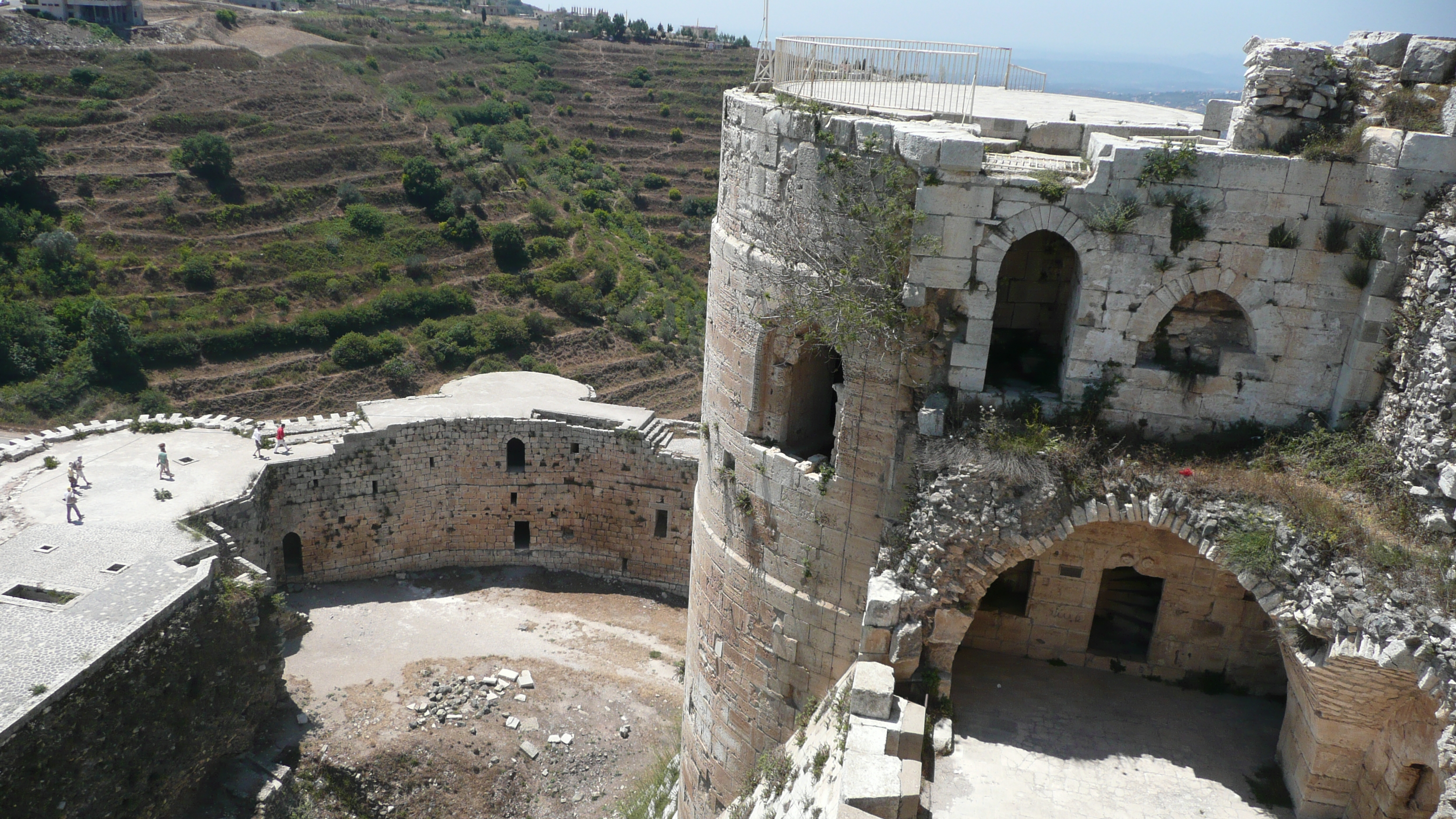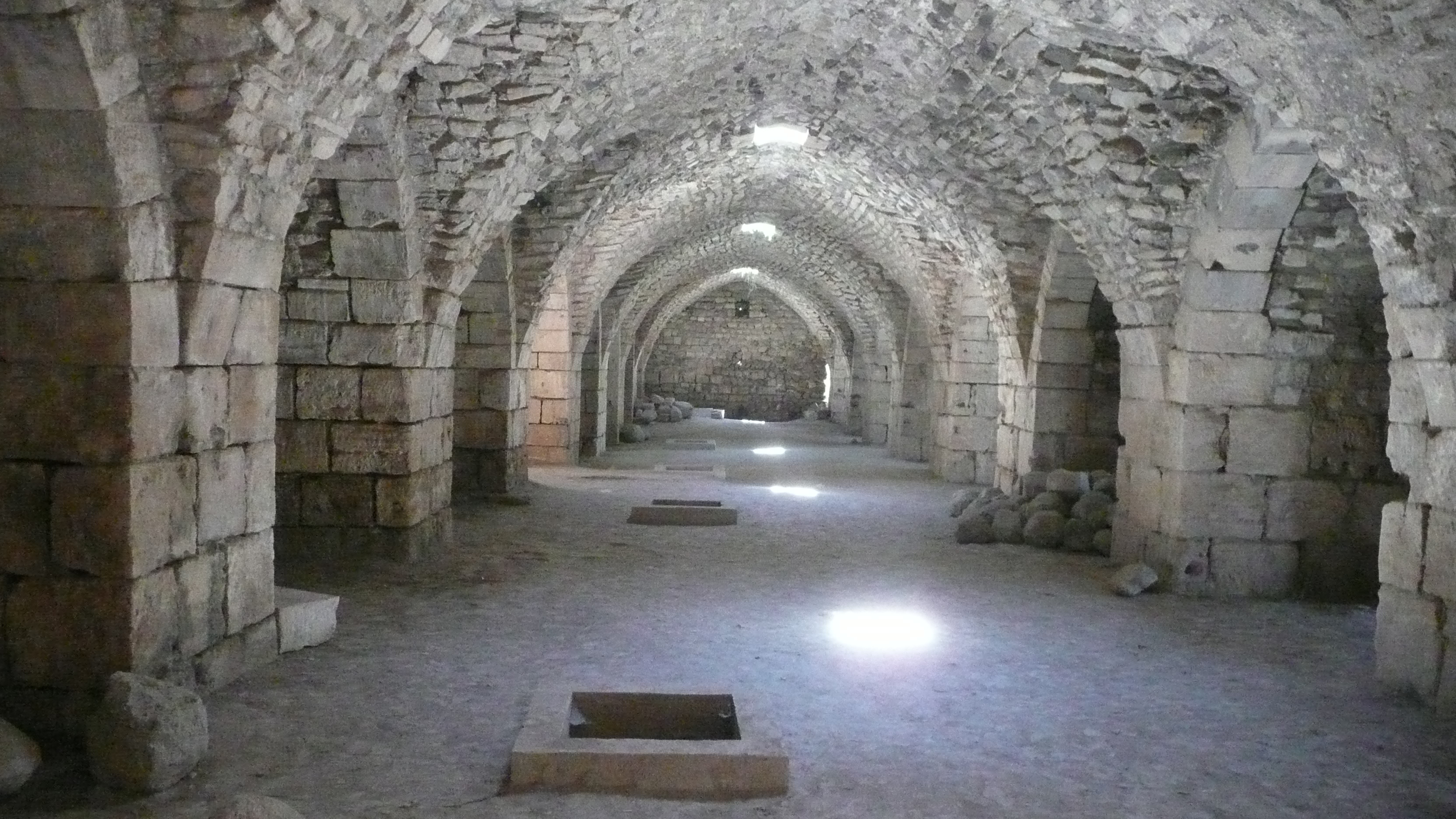 Finally we made our way to Syria's most populated and most northern city of Aleppo. Similar in many ways to Damascus, but more conservative and with less charm (only my opinion), Aleppo did have some fine sites to see. Beautiful mosques and churches, and the Allepo Citadel (ancient military fortress) was an amazing castle in its own right, now standing guard over a promenade of tourist cafes and the entrance to the cities Grand Souk. Lila and I spent our free time in the cities Christian Quarter, where we found the best restaurants and cafes. Oh, and beer.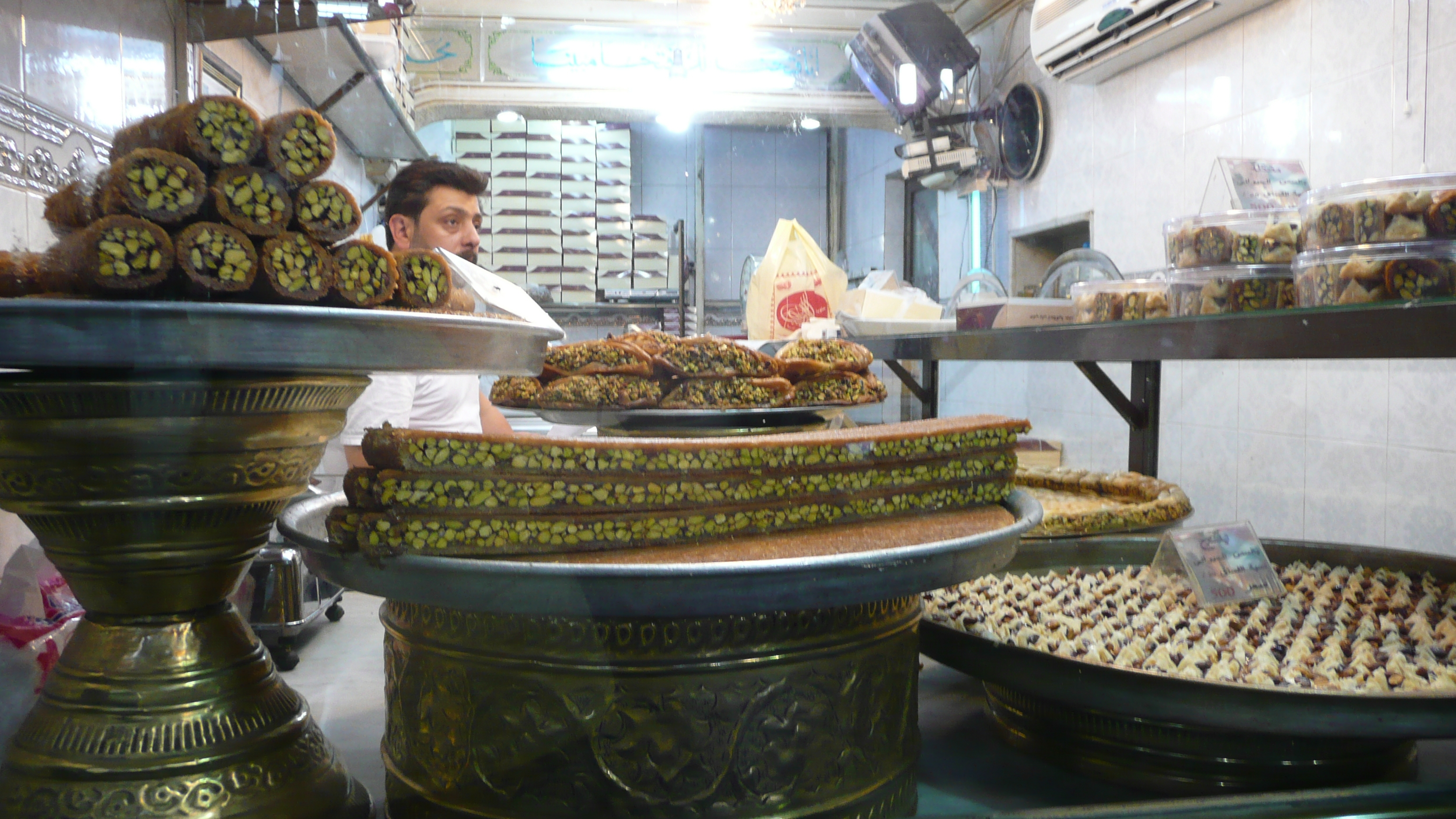 The following day we headed into Turkey…
Click here for our Syria photos.